Destinations in Ninh Thuan: Important Tourist Places and Attractions
Overview
The coastal province of Ninh Thuan lies in the south of Vietnam, about 1.382km from Hanoi and 350km from Ho Chi Minh City.
Ninh Thuan shares its border with Khanh Hoa province on the north, Binh Thuan province on the south and the East Sea on the east.
With the strategic location, the province is an important transportation node with the North-South Railway, the 1A and the 27 National Highway. It is also a well-know tourist destination with many beauty spots.
Tourism
Ninh Thuan belongs to tourism triangles: Dalat- Nha Trang- Phan Rang. Coming to there, tourists are able to relax in Ca Na Tourist Site, swim in Ninh Chu Beach, Vinh Hy Bay, climb to Da Trang Mountain, and observe natural animals in Phan Rang Reservation, or visit Pi Nang Tac Stone Trap.
Being home of Cham minority group, Ninh Thuan has characters culture of Cham ethnic, which stamp in local custom, Cham dance, sculpture, pottery, and brocade and agriculture of Cham towers. Famous towers name Po Klong Garai and Porome.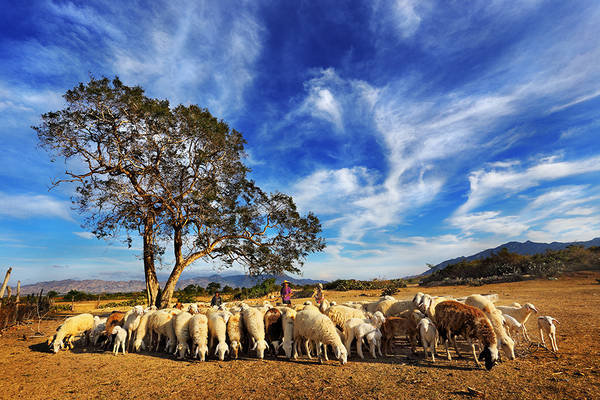 Nowadays, Cham people still preserve matriarchy, a valuable inheritance of Vietnam, and special festivals such as Kate and Cha Bun ceremonies, Royal Idiladha and Ra Glai Tribe festivals and other ceremonies like dig a ditch, dam up, new rice.
Kate Ceremony is the biggest and most joyful festival of Cham people, taking place in Ninh Thuan and Binh Thuan Provinces.
The ceremony is held at Poklong Garai and other Cham Towers to commemorate national heroes, ancestors, and deities of the Cham, as well as King Poklong and King Porome.
---
Ninh Thuan
Oh, Ninh Thuan!
Our Ninh Thuan trips
Interactive Map
Explore Popular Sites of Ninh Thuan
Aug 16, 2017
Vinh Hy Bay, one of the country's four most beautiful bays with unspoiled natural scenery, is a perfect destination for...
Oct 4, 2017
The beauty of salt fields in Vietnam
Voted as the most beautiful place to see sunset in the world and inspiration of wonderful photos, it has no coincidence that the...