Considered the most famous seaside resort-town in Vietnam, Nha Trang attracts foreign tourists for not only its stunningly pristine beaches but also the urban atmosphere of a young tourist city. It is also known as the pearl of South China Sea.
Nha Trang is a coastal city as well as the center of politics, economy, culture, science and technology, and tourism in Khanh Hoa province, South Central Coast Vietnam. Nha Trang is also known as the pearl of South China Sea, a turquoise pearl thanks to the value of its natural beauty.
Nha Trang is tourism center in Khanh Hoa province. Strethching beaches of the city have turned it into a tourist town. In particular, Khanh Hoa has been usually selected to host major events, such as Sea Festival (Nha Trang), or marvelous beauty pageants as Miss Vietnam, Miss Vietnam World 2007 Miss Universe 2008, and Miss Earth 2010...
Nha Trang Bay has an area of approximately 507 km² including 19 large and small islands, of which Hon Tre is the largest island with an area of 3,250 hectares.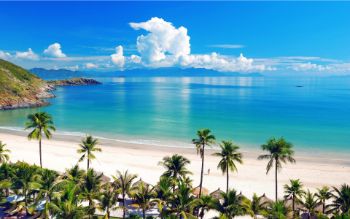 Nha Trang Bay is wetland ecosystems, coral reefs, mangroves, sea grasses, estuarine ecosystems, island ecosystems, and marine ecosystems of coastal sands. There are many famous attractions among islands in the Bay, such as: Hon Mun Island, Hon Mieu Island, Hon Tam Island, Hon Tre Island…
Thanks to its intact and pristine beauty, Van Phong Bay has been known to the large number of foreign tourists, in which Dam Mon is the first stop in marine ecotourism complex in the Bay.
Beside dreaming mountain and sea scenery, Van Phong Bay retains romantic golden sands stretching tens of kilometers from Co Ma Pass to Hon Gom Island, forming wonderful natural beaches: West Beach, Lach Beach, Bua Beach, Xuan Dung Beach...
Van Phong Bay is recognized as a national tourist zones and honored as one of the most beautiful landscapes in Asia and Far East by World Tourism Organization.
In additon, the city is home to many charming natural landcapes: Dam Market, Long Son Pagoda, Mountain Church, Nha Trang Oceanography Institute, Diamond Bay, Ponaga Tower...which will definitely attracts tourists once setting foot in here.
Nha Trang Beach
The beauty of Nha Trang Beach from above is considered as a vivid and magic ink-washing painting that nature has created.
Nha Trang Beach - Source: Image from Flickr
Tourists once setting foot on the beach will find hard to forget the gentle and poetic beauty that Creator has favorably bestowed the coastal city. Along the coastline, murmur coconut and casuarina groves much beautify ecstatic beauty of "Pearl of the Orient"...
The combination of blue seawater, clean white sand shores and wonderful scenery has turned Nha Trang Beach into one of the most beautiful Nha Trang beaches attracting the large number of domestic and international tourists.
Nature has favorably bestowed best conditions of South Central Coast to Nha Trang coastal city from beaches with fine white sand endlessly stretching to the exotic offshore islands, and from magnificent coral reefs beneath the ocean to ancient Cham temples on the mountain.
All seemly only dedicates to the spectacular bay. In particular, as one of the most appealing tourist attractions in Nha Trang, Nha Trang Beach curving like embracing the emerald bay with beautiful natural scenery much more captivates ecstatic beauty of the beach.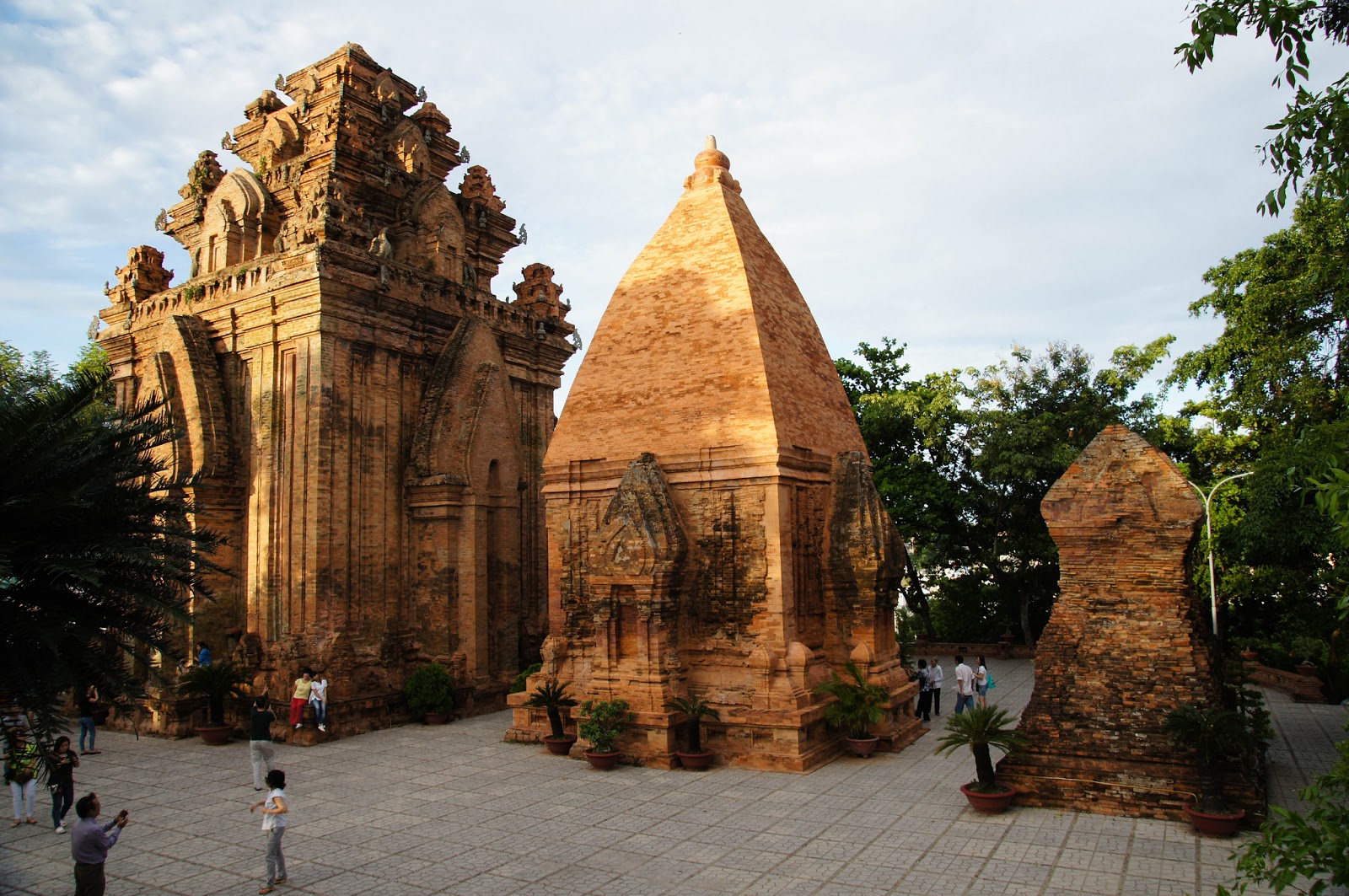 Those who once set foot on Nha Trang Beach will never forget the wonderful feelings. Running along the 7 km long coast of Nha Trang Bay is Tran Phu Street - the most beautiful street in Nha Trang winding the coast with many beautiful villas, high-end hotels, and luxury restaurants interconnected.
In addition, a system including postal services, museums, libraries, clubs, and shops selling souvenirs is also perfectly implemented. All modernly and luxuriously designed facilitates the convenience for going sightseeing of tourists. Soaking up the romantic scenery of the beach along with professional services, tourists will actually have a chance to enjoy their own perfect Nha Trang tours.
Nha Trang Sea - Source: Image from Panoramio
Not only known for its beautiful scenery captivating tourists, Nha Trang Beach is also famous for the diverse culinary characteristics. Nha Trang is home to numerous delicious and unique dished. Cuisine in Nha Trang has long attracted tourists right from rustic dishes such as noodle soup with fish, pancakes to fresh seafood, especially Salanganes'Nest.
Nha Trang "canh" (soup) cake with its special processing will certainly make for unforgettable taste in the journey of exploring Nha Trang travel of tourists. What could be more fascinating when immerseing in the immense space of the sea and enjoying the delicious specialties of this great bay?
Beach at Nha Trang - Source: Image from Flickr
As one of the most appealing Nha Trang attractions with its own prime location, going to Nha Trang Beach, tourists will find it easy to visit Pasteur Institute, Ponagar Cham Tower or stop at Hon Chong Island to contemplate Hon Do (Red) Island.
It is also extremely convenient to set foot on Bao Dai Palace, National Oceanographic Museum of Vietnam or take the boat to the famous islands such as Tri Nguyen, Vinpearl Land, Hon Tam Island, Hon Mun Island, Hon Mot Island.
Go sightseeing in Nha Trang Bay to soak up the immense sea, contemplate the canaries flying or quietly drop and enjoy the fish, shrimp, squid and other famous specialties is the desire of any tourists when once going to Nha Trang.
Gentle and beautiful Nha Trang Beach as well as sincere, likeable and easygoing temperament but simple Nha Trang citizens are just like the characters of Khanh Hoa waters. All have made sincere, friendly, hospitable and hardworking personality of people in Khanh Hoa in general and Nha Trang citizens in particular. It seems that all characteristics on Nha Trang tourism in general and Nha Trang Beach in particular will leave a deep impression in the memories of any tourists.
Boating in Nha Trang Beach - Source: Image from Flickr
Nha Trang, the dynamic coastal city full of energetic with the new roads, the new bridges, wonderful coastal resorts along with architectural works gradually changing and especially the locals here really gentle and friendly is always impressive rendezvous attracting tourists.
Nha Trang travel actually leaves good impressions for both domestic and international tourists. Even once spending their vacation in the beautiful beach, tourists will definitely get loved and unforgettable memories. Nha Trang Beach thus plays a significant role in captivating tourists to Nha Trang.
Festival
Cham dance in Po Nagar Festival - Source: Image from tinhte.vn by Pham Tan Luc
Along with beautiful natural scenery, festivals in Nha Trang strongly lure both dometic and foreign tourists.
Thap Ba (Ponagar) Festival: Thap Ba Festival is the largest traditional religious festival annually taking place from 20 to 23 March (lunar calendar) to commemorate the Goddess Thien Y A Na – Holy Mother of the Cham community in the Central region.
There are many Cham people's traditional art performances during the festival, including dances with fans, ceramics and Apsara dances. Some of Cham's cultural activities such as the brocading and making of ceramic products will also be introduced. Many sports activities and art performances featuring specific characteristics of Cham ethnic minority people will also be organized during the festival.
Hung Temple Festival: The festival is solemnly held annually on 10 March (lunar calendar) at Hung Kings Temple, Nha Trang. The ceremony takes place with many traditional rituals. Leaders of Khanh Hoa province, Nha Trang city and many delegations offer incense, flowers and gifts to commemorate the founders of the nation.
Nha Trang Sea Festival: It is a colorful and dynamic sea festival which honors natural beauty of Nha Trang - the charming city overlooking the sea. Held since 2009, Sea Festival is one of the most attractive Nha Trang festivals.
It gradually becomes an annual festival in the city and is increasingly organized with much larger scale. The festival is a place of cultural exchange between Vietnam and international countries. Many interesting activities also take place during the festival like seafood and international gastronomy competition, wine festival, beach volleyball, etc.
The festival is also a great chance for tourists to know more about Vietnam through special events such as Truong Sa Picture Exhibition, Khmer Cultural Exhibition, art kite flying festival, event of throwing lanterns on Cai River, human chess, and particularly traditional Fish Worshipping Festival.
Beside fascinating festivals, Nha Trang also the home to unique festivals, namely Whale (Ca Voi, Ca Ong) Festival, Am Chua Festival and festival, Salangane Nest (Yen Sao) Festival...with many excellent artistic cultural activities.