Destinations in Hue: Important Tourist Places and Attractions
Overview
Thua Thien-Hue Province is located in Central Viet Nam. Thua Thien-Hue offers very diversified and beautiful landscapes. Nature and human beings create a harmoniously beauty with Bach Ma (White Horse) National Park and other attractive beaches such as Thuan An, Lang Co and Canh Duong. Besides, tourist is able to enjoy many traditional famous dishes and find out about sophisticated handicraft here.
The city is cultural, political, educational, tourism center of the Central. With the Huong (Perfume) River and valuale heritages of feudal dynasty, Hue is worth one of the most mentioned cities in poety and music of Vietnam. The city currently owns two UNESCO titles in Vietnam.
Culture
Hue owns Hue a history of formation and development of nearly seven centuries (from 1306). During that long period, Hue has integrated precious material and spiritual values to create a unique Hue cultural tradition.
Hue culture is created by the unique spirit, diverse types, rich and unique content, and is expressed in various fields such as literature, music, theater, fine arts, architecture, customs and habits, festivals, behavior, communication style, and lifestyle...
Notably, Tuong (a kind of traditional folk song) art in still remains its own identity. Referring to Hue, it will be a deficiency if not mentioning royal court music, a symbol of Hue city, which is recognized by UNESCO as intangible and oral masterpiece of humanity.
Tourism
Huong River - Ngu Mountain are considered as symbols of romantic nature in Hue. Besides, highlight potential in Hue is also reflected in 300 artistic architectural works, which is recognized by UNESCO as cultural heritage of humanity in 1993.
That is, the system of fortresses, palaces, royal tombs of Kings in Nguyen Dynasty, royal architectures, folk architectures, temples, shrines, home garden system...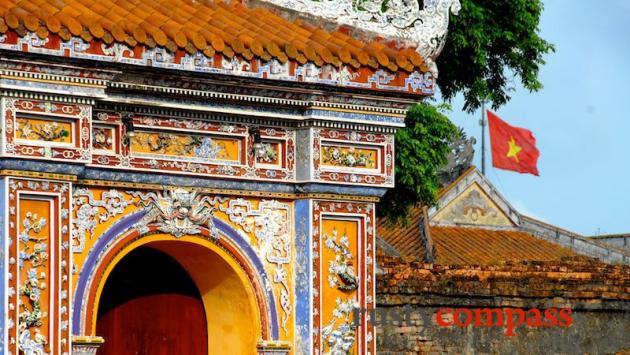 In November 2003, Hue royal court music was recognized as world intangible cultural heritage, contributing to the pride for Hue citizens. Along with world cultural heritage, natural landscapes, and historical relics, Hue is also well known with many unique garden houses: An Hien, Lac Tinh Vien, Ngoc Son Princess, Ty Ba Trang, Tinh Gia Vien...
In addition, the system of restaurants, services and hotels in Hue gradually turn the city into a tourism center in Vietnam. Hue hotels offer a capacity of 2,604 operating rooms, of which there are three 4-star hotels, two 2-star hotels and many 1-2 star hotels.
Hue tourism is also available for tourism routes: Kim Long tourism area, Nam Chau Hoi Quan, Gia Hoi - Chi Lang Old Towns, Bach Dang night street, Huong River, boat trip along Huong River and Ngu Ha River...Tourism in Hue thus attracts a great number of both domestic and foreign tourists.
Festival
There are two kinds of festivals in Hue: traditional festivals and royal festivals. Among them, royal festivals aim to reflect royal ritual activities of Nguyen Dynasty.
Meanwhile, traditional festivals are extremely diverse, such as Hue Nam festival in Hon Chen palace under Champa beliefs, festivals honoring ancestors who established traditional handicraft villages and villages. In these festivals, many cultural activities continuously take place: boat racing, tug of war, wrestling... attracting tourists.
In particular, the city is worldwide known by its excellent Hue Festival. Organizing the first time in 2000, Hue Festival has been held so far seven times (2000, 2002, 2004, 2006, 2008, 2010, and 2012).
This is a major cultural event with the scale of national and international stature, retaining important implications in the life of Hue people. In addition, this is an important condition for the construction of Hue city into festival city in Vietnam.
How to get there
By plane
Hue's international "Phu Bai" (HUI) airport fields daily flights to and from Ho Chi Minh City and Hanoi, but flights are quite often disrupted by poor weather during the rainy season (Mid October - Mid December). Three airlines fly to "Phu Bai" airport: Vietnam Airlines, JetStar Pacific and Vietjet.
Da Nang's airport, only two hours away by car now that the Hai Van Tunnel is open, is busier, and has more connections. As of February 2012, a one-way taxi from Da Nang airport to Hue can be negotiated down to USD 45 (large car) or USD 40 (small car).
By train
Several trains a day to Hanoi, Ho Chi Minh City, Da Nang (4 hours) etc. The journey down south through Lang Co and the Hai Van Pass is particularly scenic, and from Da Nang you can take a taxi or motorbike to Hoi An.
By bus
Daily bus from Hue to Hoian running by a local tour operator in Hue city.
Public buses from all the bigger cities (including frequent services to Hanoi and Saigon) connect to the main bus stations (Bến Xe Phía Nam for the south and Bến Xe Phía Bắc for the north).
Most open tour buses include Hue in their itinerary, connecting to Hoi An or Da Nang to the south (4-6 hours) and Hanoi to the north (13-16 hours). The overnight Hanoi route is popular with locals, but beware of motion sickness among them.
See
Imperial Citadel (Đại Nội)
The former imperial seat of government and Hue's prime attraction, this is a great sprawling complex of temples, pavilions, moats, walls, gates, shops, museums and galleries, featuring art and costumes from various periods of Vietnamese history.
Entry 150,000 dong for adults 30, 000 dong for children 7-12 (Feb 2017) (for foreigners, less for locals of course) and it is open 06:30-17:00. Inside you can pay $1.50 (75,000dong) to dress up in the King or Queen's clothing and sit on the throne for a fun photo opportunity.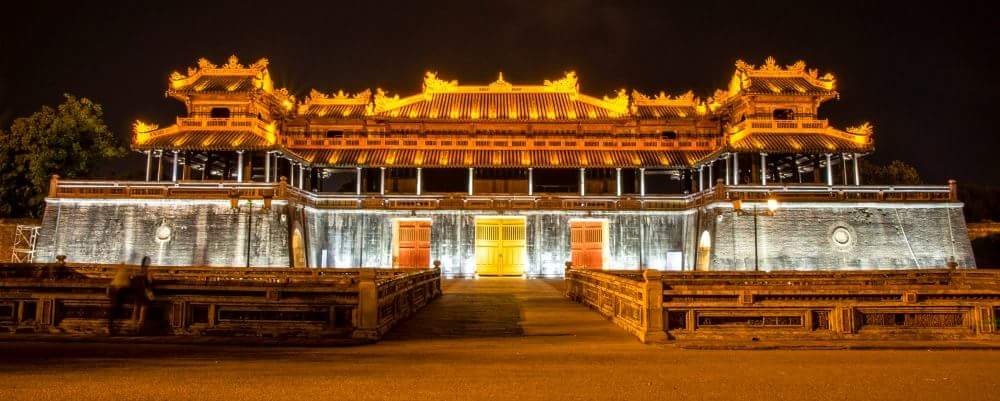 Ngọ Môn. The main southern entrance to the city, built in 1833 by Minh Mang. The central door, and the bridge connecting to it, were reserved exclusively for the emperor. Climb up to the second floor for a nice view of the exquisite courtyard. The Ngo Mon Gate is the principal entrance to the Imperial Enclosure. The Emperor would address his officials and the people from the top of this gate.
Thái Hòa Palace. The emperor's coronation hall, where he would sit in state and receive foreign dignitaries.
Trường Sanh Residence. Translated as the "Palace of Longevity", the Truong Sanh Palace was the residence of King Tu Duc's mother, Empress Tu Du, under the Nguyen Dynasty in the 19th century. It lies in Tu Cam Thanh, one of the two major parts of the Hue Citadel. Currently under renovation, the project, estimated to cost almost VND 30 billion (roughly US $1.8 million), includes the restoration of Lach Dao Nguyen, the Palace's protective moat, decorative man-made rock formations and mountains, bonsai gardens, and the palace gate.
Forbidden Purple City. Directly behind Thai Hoa Palace, but it was almost entirely destroyed during the 1968 Tet Offensive and only the rather nondescript Mandarin Palaces on both sides remain.
Hue Jungle Crevice. When the Viet Cong briefly over ran Hue they rounded up 3000 of Hue's citizens and officials. Fearing the prisoners would slow them down in hot retreat, they tied them up and pushed the people over the cliff into the crevice.
Tombs of the Emperors
Tombs of the Emperors, which are located along the Perfume River south of the city. The tombs themselves are worth the cost and effort.
They mostly date from the late 19th or early 20th centuries, when the Emperors had been reduced to figureheads under French colonial rule and had little else to do than build themselves elaborate tombs.
The finest of them are the Tomb of Tu Duc, the Tomb of Minh Mang and the Tomb of Khai Dinh, all of which are excellent examples of Vietnamese Buddhist aesthetics and architecture. The older ones have been allowed to crumble into picturesque semi-ruin, although some are now being restored.
They are accessible by taxi or bike from the city, but the best way to see them is to hire a river boat and go for a cruise. Plan to make a full day of it, although if you rent a car, it will take only a few hours to see those worth seeing. Group tours usually cost about 200,000 VND, which includes a lunch aboard the boat.
The tombs are also easily reached by bicycle, although there is a shortage of good maps of how to reach them.
Thien Mu Pagoda (4km) - perched on a bluff over the river and housing some very fine gold and silver Buddha images.
The Thien Mu Pagoda overlooks the Perfume River and is the official symbol of the city of Hue. Thien Mu means "elderly celestial woman", and refers to an old legend about the founding of the pagoda. Brimming with opportunities for great photos.
Thanh Toan Bridge - a few kms out of the city is this beautiful wooden footbridge. It is a great place to observe rural life, and is often full of locals escaping the sun. While it might not be worth the trip on its own, it's definitely worth a stop if you are in the area.
---
Hue
Interactive Map
Explore Popular Sites of Hue