Destinations in Hoi An: Important Tourist Places and Attractions
Overview
Where in the world could remain such a cristine ancient beauty after nearly 300 circles of the four seasons? It is Hoi An – the famous Old Town in Mid Southern Vietnam…
Hoi An, once known as Faifo, with more than 2,000 years history, was the principal port of the Cham Kingdom, which controlled the strategic spice trade with Indonesia from the 7th to the 10th century and was a major international port in the 16th and 17th centuries - and the foreign influences are discernible to this day.
The culture & heritage is mostly from the Cham people whose kingdom originally stretched from Hue South to Phan Thiet (South of Nha Trang) - the Champa's most likely originally from Java.
The original Cham political capital was Tra Kieu, the commercial capital was Hoi An and the spiritual capital was My Son (Hindu). The Cham people were Hindu, and by the 10th century the influence of Arab traders to Hoi An resulted in some converting to become Muslims.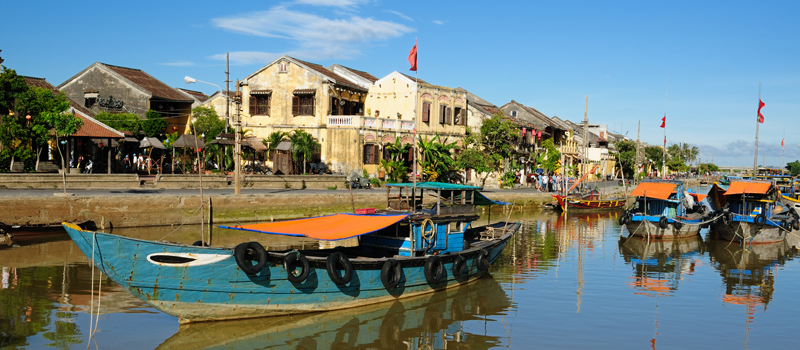 The second major influence was from the Chinese, firstly from traders but especially the escaping Ming Dynasty armies who after settling in Hoi An for some years moved further south and created Saigon as a major trading port.
The third and last major influence of culture & heritage was from the Vietnamese and is fairly recent and only came after the Cham lost control of this area. For a tourist wanting Vietnamese culture & heritage, Hue is a much better destination than Hoi An (but the weather is much rougher too!).
The culture & heritage that UNESCO World Heritage Site status for Hoi An Ancient Town was trying to preserve has long since gone. Since 1999, when UNESCO WHS status was awarded, there has been a massive increase in tourism - with the result that most houses have been sold by the community to speculators and shop owners to be used for commercial purposes.
The former community, and with it their culture and heritage, has gone and in their place are endless indistinguishable shops, restaurants, art galleries, etc. There are literally hundreds of tailor shops in Hoi An.
UNESCO Biosphere Reserve status also applies for Hoi An Ancient Town, but in reality this status, like many other UNESCO statuses, is not being cherished by site management.
The main thoroughfare in the Old Town is Tran Phu. Just south of the Old Town, across the Thu Bon River, are the islands of An Hoi to the west, reachable via Hai Ba Trung, and Cam Nam to the east, reachable via Hoang Dieu.
Hoi An is known for clothing and shoes, with more than 600 shops catering to a very limited pool of tourists. Walk some of the streets outside the old town and you will see open-fronted workshops operating all hours where the clothes are made.
Festivals
Tourists should not miss some of the great festivals of Hoi An, among which is Full Moon Festival, held on the 14th of every lunar month, one night before the full moon, when the Old Town becomes even more festive than usual, active and marvellously decorated with colorful lights and lamps along every lane.
Another one is the Mid-Autumn Festival - held on the 14th of the August lunar month. Last but not least, the "lantern festival", the most enchanting and special one of Hoi An, which is typically demonstrated with all colorful hanging cloth and paper lanterns on the 15th of every lunar month switched on altogether while all electrical equipment is off, leaving the Old Quarter bathed in the warm glow of colored silk, glass and paper lanterns. A sparkling, romantic and mysterious view is opened, stimulating anybody's curiosity and eye feed!
Religion
The 14th day of the lunar month is a Buddhist day of worship. Hoi An residents place offerings of food and incense on their ancestral altars and visit one of Hoi An's many pagodas. The scent of incense and the sounds of people singing add to the town's enchanted atmosphere. Visitors will get a rare glimpse into another era – the very far away period of our ancestors, and discovering it themselves.
Specialties
There are three dishes that Hoi An is particularly famous for:
Cao lầu, a dish of rice noodles which are not quite as slippery as pho and a bit closer in texture to pasta. The secret is the water used to make it, and authentic cao lau uses only water from a special well in the city. The noodles are topped with slices of roast pork, dough fritters, and this being Vietnam, lots of fresh herbs and veggies.
White rose (banh bao vac), a type of shrimp dumpling made from translucent white dough bunched up to look like a rose.
Wonton dumplings ("Hoanh Thanh"), essentially the same as the Chinese kind, served up in soup or deep-fried.
Attractions
Japanese Covered Bridge's Pagoda (Chua Cau or Lai Vien Kieu). The Bridge is located on the west end of Tran Phu Street, but the ticket is ONLY required to access the annexed pagoda on one side of the bridge's interior; the bridge itself is free for crossing. The bridge was constructed in the early 1600's by the Japanese community, roughly 40 years before they left the city to return to Japan under the strict policy of sakoku enforced by the Tokugawa Shogunate, and renovated in 1986. Today, it's the symbol of Hoi An.
Precious Heritage Museum

,

26 Phan Boi Chau.

A 250m2 display of photos and artifacts collected by Réhahn during the past 5 years of the french photographer's explorations of Vietnam.

Free Entrance

.
Quan Cong Temple, 24 Tran Phu Street.
The ticket allows admission to four museums in the Old Town (one ticket-one museum):
Museum of Folk Culture, 33 Nguyen Thai Hoc Street. Some may be put off by the bizarre-looking plaster sculptures of Vietnamese peasants, but this museum documents the dress and culture of rural Vietnam.
Museum of Trade Ceramics, 80 Tran Phu Street. The dusty, unlabeled displays of broken pottery are eminently forgettable, but the house itself is nice enough, and it provides a better opportunity to explore the shape and layout of an old Hoi An home than you'll find at any of the Old Houses (below).
Hoi An Museum of History and Culture, 7 Nguyen Hue Street. The museum contains some old black and white photos of Hoi An taken in the early 20th century. It also houses an old canon, some two-thousand year old pots from the Sa Huynh period, and a case full of 9th century bricks and tiles from the Champa period.
Museum of Sa Huynh Culture, 149 Bach Dang Street. The museum's main collection consists of pottery and urns from the 1st and 2nd centuries. Upstairs, there used to be another museum, the Museum of the Revolution. Its main collection consists of pictures from war heroes and a collection of weapons such as grenade launchers, machine guns and AK47s. However, this collection has now been relocated to the new museum building at the top of Le Loi Street, and is not currently open to the public.
There are three old houses that exist in an awkward halfway state between museum show-piece and somewhat shabby residence for the family that lives there.
Phung Hung House, 4 Nguyen Thi Minh Khai Street, just west of the Japanese Bridge. Traditional two-story wooden house, inhabited over 100 years by eight generations; and the current one attempts to guide you around in hope of a tip.
Quan Thang House, 77 Nguyen Thai Hoc Street.
Tan Ky House, 101 Nguyen Thai Hoc Street. As above, a younger member of the family will provide a cup of tea and a "tour" that doesn't stray from the front room of the house, as you'd need to step over sleeping members of the older generation to go anywhere else. The design of the house shows how local architecture incorporated Japanese and Chinese influences. Japanese elements include the crab shell-shaped ceiling supported by three beams in the living room. Chinese poems written in mother-of-pearl are hanging from a number of the columns that hold up the roof.
Numerous congregation halls, where Chinese expatriate residents socialized and held meetings, are dotted about the town. They are typically named after the home region of their members, such as Fujian and Canton. Some do not have ticket-takers, so it's up to your conscience if you want to try wandering into a second.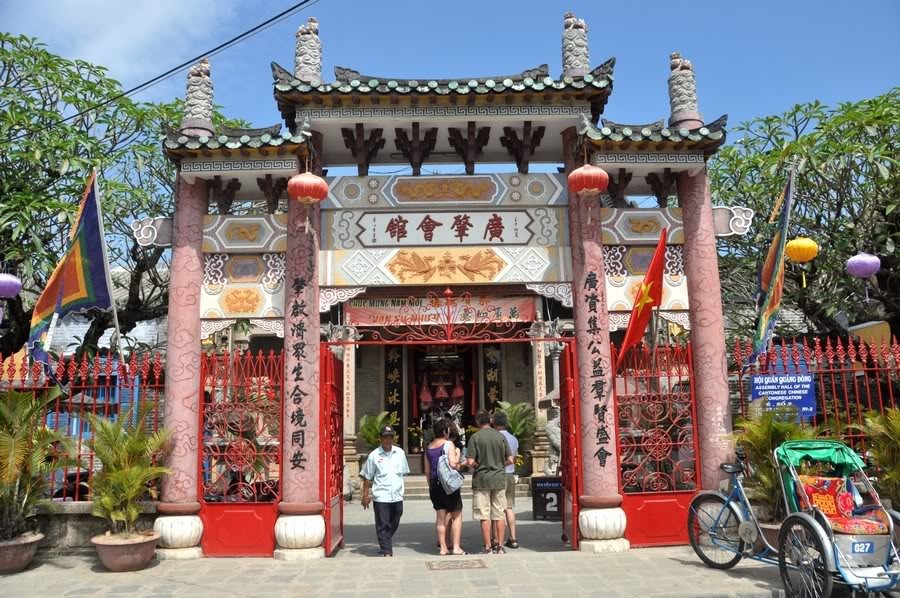 Cantonese Assembly Hall (Quang Dong), 176 Tran Phu Street. Built in 1885, it has a calm courtyard with ornate statuary. Take a peek at the half-hidden back yard and its kitschy pastel dragon statues.
Hokien (Fujian) Meeting Hall (Phuc Kien), 46 Tran Phu Street. Built in 1757.
Chinese All-Community Meeting Hall (Trieu Chau), 157 Nguyen Duy Hieu. Built in 1887. It's near the Fujian hall, also spanning the block.
Finally, you can choose one of the following to get some "Intangible Culture":
Hoi An Handicraft Workshop, 9 Bach Dang Street. Folk music performances are offered at 10:15 and 15:15 every day except Monday. The performances last about 20 minutes.
Traditional Theatre, 75 Nguyen Thai Hoc Street.
How to get there
By plane
The nearest airport is in Da Nang which has domestic connections from Hanoi, Ho Chi Minh City and Hue with Vietnam Airlines and VietJet Air and some international flights from Bangkok, Singapore Siem Reap, Hong Kong, Cambodia (for Angkor Wat) and charter flights from China.
By train
There is no railway station in Hoi An. The nearest is in Da Nang, which receives several trains a day from Hanoi, Ho Chi Minh City, Hue, Nha Trang etc. Most travel agents and hotels can book a train ticket for you.
By bus
There are two different bus stations in Hoi An now (older guide books just show the one on D Hung Vuong)and the public buses to Da Nang leave from the station about 2km north west of the centre on Le Hong Phong. A xe om from Hoi An bus station to the old town should be around 10-15,000 dong.
By motorbike or taxi
It is easy to take a motorbike or taxi to and from Da Nang via the Marble Mountains, from where you can catch a train onwards. This trip cost 460,000 dong from Da Nang bus station, by the meter in Jan 2013.
From Hue or Quang Binh, you can take a private taxi to Hoi An. On the way, you will photo stop at Lap An Lagoon, Lang Co Beach, Hai Van Pass, Cham Museum.
Taxi from Danang Airport to Hoi An centre is about 250,000 dong in general (as of July 2016). You can book at this price in most of the travel agency in Hoi An town. Some hotel might charge you more from USD 13 - 17
By boat
The old Champa way was to travel by the river system. The rivers of Hoi An cover hundreds of km and offer an interesting & adventurous alternative to travelling by road. Get on a boat and you'll begin to see a whole lot more of Hoi An and the Delta.
---
Hoi An
Oh, Hoi An!
Our Hoi An trips
Interactive Map
Explore Popular Sites of Hoi An