There are so many interesting things and stunning places in Hanoi that you can enjoy the chance to take a visit to, one of the must – see places in Hanoi that you should not miss out that is Dong Xuan Market. It is really an ideal place for those who want to explore and experience the shopping heaven as well as get to know more about the culture and custom of a land.
Dong Xuan Market is the largest wholesale market in
Hanoi
where sell many types of goods, products and various foodstuffs. The market has three stories divided in stalls. Coming here, tourist will immerse in the world of many types of goods such as clothing, souvenirs, accessories, household appliances and fresh produce.
Established in 1889, Dong Xuan Market is housed within a four-storey Soviet-style building on the northern edge of Hanoi Old Quarter. It's also known as Hanoi's largest indoor market, offering a wide range of goods such as fresh produce, souvenirs, accessories and clothing, as well as electronic and household appliances.
Old Hanoi residents gradually developed trade activities here because of its proximity to the river, which made it convenient for transportation of goods.
On the night of July 14th, 1994, a fire has brought down the whole market, causing a damage of 300 billion VND. The market you see today was recently built modeled after the architecture before the fire.
Similar to most markets in Southeast Asia, Dong Xuan Market has a bustling wet market section on the ground floor, where locals shop for seafood, meat, and vegetables while the back section sells an array of pets (cats, dogs, and fish) and fresh flowers from all across Vietnam.
If you're looking to shop for souvenirs, head to the upper levels, where you can find numerous stalls selling tee shirts, fabrics, school uniforms, handbags, handicrafts, all of which are sold at wholesale prices.
But, what is more fascinating about this market is its historical significance which you still can experience if you visit this place. It witnessed fierce battle between the Vietnamese resistance units and the French.
Dong Xuan Market is also a historical place where there was a combat of soldiers of "Quyết tử quân" ("Deciding to die") against the French attack to the heroic zone I, in February 1947. Being the biggest market and locating in the downtown, Dong Xuan Market is a crowded and bustling exchanging, tracsaction, business place of the capital.
It was built in 1889, in the basis of combination and removal of two markets, Cau Dong and Bach Ma on the shore of To River. It was positioned in area of Dong Xuan Ward with 5 vault-like roofs, steel frames; each frame is 52m long, 19m high supplying area for hundreds of goods.
Typical characteristics
Unlike other Hanoi night markets selling agricultural products in Long Bien and Quang Ba, Dong Xuan Market has been mainly created for tourists. With its eleven stalls, the brightly-lit food zone is the most animated, serving late night guests until early morning. There are numerous kinds of goods and products selling in the market.
The crowded and dense situation of Dong Xuan Market was highly praised in many old folk song of Hanoi. This large three-story market to the north of Hanoi's Old Quarter offers a varied cornucopia of goods of all sorts. Hundreds of stalls, with thousands of workers, trade extremely fresh produce, dried foods, household goods, appliances and more. The market has an interesting history.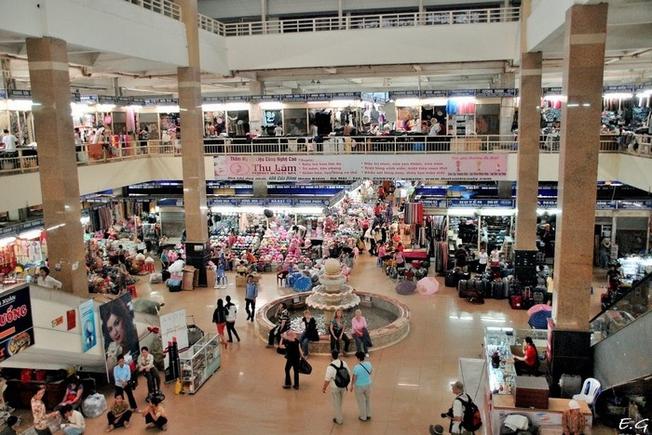 It saw fierce fighting between Vietnamese resistance units and the French. Later, in 1994, the market was destroyed in a fire that resulted in the death of five people and the loss of an estimated USD4.5 million in stock.
River networks formed the economic hub of Hanoi by providing a system of waterways which fed the city and markets. Located at the confluence of the To Lich and Red Rivers, the Dong Xuan Market was once one of the busiest urban areas in Southeast Asia.
Shopping
To local residents, Dong Xuan is mostly reserved for bulk sale and distribution points for many retailers in Hanoi. Main products include electronic devices, household equipments and clothing. At the back of the market is the trading place for animals (puppies, kitties, birds, fish, etc.) and plants (mostly Vietnamese bonsai). Suppliers for the market come mainly from North Vietnam with many Chinese blends.
Like other markets such as Sapa's Cho Tinh, Nam Dinh's Cho Vieng, Lang Son's Cho Ky Lua and Can Tho's Cho Tay Do, Dong Xuan Market has been set up to meet the needs of locals and tourists. With the advantage of having long history of culture, traditions and being located in the community of ancient quarter of Hanoi, Dong Xuan Market is one of attractive tourist destinations of the capital and is the only one of Hanoi' s many efforts to develop tourism and attract international visitors.
To advertise the image of Dong Xuan Market, creating favorable conditions for citizens to sell and buy products (consumer products and handicrafts), Dong Xuan JSC is now organizing to exploit tours at the market. Currently, Dong Xuan travel is now establishing tours to exploit potentials of tourism of the market to develop the tourism of culture, research for development of tourist products.
From 2010 on wards, the company will build up Dong Xuan Market to archive the standards of tourist destination of the city; research development of services and accommodations of visitors.
Tourists come to visit Dong Xuan Market will have an opportunity to know more about the culture and daily life of Hanoi people as well as Vietnamese. Besides taking the chance to buy a lot of souvenirs and goods in the market, you also can make the use to admire and even purchase some traditional drawings such as: Bat Trang Ceramics, Binh Da Embroideries and Laces and Sand Paintings.
Eating
Ylang-ylang Garden in Dong Xuan Market
You might have your curiosity and appetite titillated as you try to choose from a wide selection of exotic Hanoi dishes: fried frog or fish meat pastes, rice and duck meat soup, fried rice, tiet canh (duck blood uncooked, only if you have a brave heart and strong stomach!), rice vermicelli and beef cooked in the south Vietnamese style and even just beefsteak and bread.
Here you can find real Hanoi food, as favored by true-blue Hanoians. The dishes might cost a little more than elsewhere but, you have to taste it to believe it, they are truly delicious, such as a steamy hot dish of pho cuon (beef wrapped in long wispy strips of rice vermicelli, served with aromatic herbs and spicy sweet-sour fish sauce).
In artifact shops on Dong Xuan Street you will find traditional Dong Ho drawings, Bat Trang ceramics. Binh Da embroideries and laces, and sand paintings, the new craze of Hanoi's young people. For a modest sum, you can choose one of those 'raw' pictures with different designs and patterns.
The Northern end of the market holds mainly eating venue, serving both day and night time. It is a wise decision to stop here for local cuisines such as "Bun Cha", "Bun Rieu" or chipping in a hot pot in a fall/winter night.
Also, having a chance to taste and sample some traditional dishes sold in the market such as: bun cha (marinated grilled pork served with noodle), banh cuon (rolled cake), fried frog. Enjoying and exploring these will bring you unforgettable memories about Hanoi in particular and Vietnam in general.
It is said that the market at night is the tourist attraction as tourists can buy souvenirs, handicrafts, taste traditional foods and enjoy activities such as performance of ca tru, cheo, dan bau and xam which are performed around the market at night. This makes Dong Xuan Market different from other markets in Hanoi. It is so wonderful to take a walk around Hoan Kiem Lake which is near to the market to feel more about the life as well as culture of Hanoi.
Do not forget to visit Dong Xuan Market when you visit Hanoi. It is really an ideal and exciting place to visit among attractions in Hanoi.
How to get to Dong Xuan Market
From the north bank of the Ho Hoan Kiem, take Hang Dao Street. Along the way, it changes name to Hang Ngang Steet and then Hang Duong Street. Eventually it becomes Dong Xuan Street. You will see Dong Xuan Market on the right side of the road. The distance is about 400 meters.
Opening Hours: Daily 06:00 - 19:00
Address: Dong Xuan Street, Hoan Kiem District, Hanoi