Situated on the bank of Nhue River, about 10km southwest of Hanoi Old Quarter, Van Phuc silk village is renowned for its traditional weaving and premium quality silk products.
Situated on the bank of Nhue River, about 10km southwest of Hanoi Old Quarter, Van Phuc silk village is renowned for its traditional weaving and premium quality silk products. At the age of more than 1,200 years, Van Phuc is proud to be the most ancient silk village which provides the best silk in Vietnam.
Visitors to Van Phuc village will be impressed by typical manner of an ancient village in the north of Vietnam with banyan tree, well, communal house, and the sound of power-looms everywhere. Walking on the main road in Van Phuc, tourists will be lost in the world of silk with various products like shirts, ties, crafts, dresses… made of silk available in the village.
For a long period of time, silk was considered as extremely precious handwork which was only used to tailor Royal members' and aristocrats' dress. The special beauty of Van Phuc or Ha Dong silk was inspiration for many Vietnamese poems, songs and movies (see The White Silk Dress, one of the 5 most outstanding Vietnamese movies).
In Nguyen dynasty time, Van Phuc silk was brought to Hue imperial citadel to make dress for royal members. Between 1931 and 1932, Van Phuc silk was on display in international exhibitions for the first time in Marseille, then Paris and was highly appreciated and preferred by the French.
From 1958 to 1988, Van Phuc silk mostly was exported to Eastern European market, and since 1990, it has been known widely in many countries all over the world.
Van Phuc silk has been known for its smooth, light weight, and elegant appearance. Especially, a traditional kind of silk called Van Silk made in Van Phuc make the wearers feel cool in summer and warm in winter. Today, to satisfy various demand for silk of the market, Van Phuc silk producers have expanded their silk and garment goods like embroidered silk, , wrinkled silk, double layers and more colors for silk products.
Many families in Van Phuc open their own shops on the main road of the village; create a "town of silk" that sell eye-catching and high quality silk products.
Tourists may buy available nice souvenir and clothes in the shop, or select the most suitable materials to then get customized products. The sellers are very friendly and can speak a little English and French to communicate to foreign tourists.
Nowadays, although the weaving has been mechanized for higher productivity, there are still simple manual looms in some houses in the village which help tourists contemplate the genuinely traditional Vietnamese way of making silk.
Ideal place for silk products & souvenirs
Like other visitors to the village, you will be surprised at this "silk shop town", where almost all houses along the paths have been turned into shops selling silk products. Specifically, the village is now home to 1,280 households, 90% of whom are involved in silk production and business. The village makes more than 2 million meters of silk per year. Yet, more than that, you are offered a good chance to explore the Vietnamese traditional industry of silk-making.
No tourists here are uncontented with the glisten of various silk products. They are always confronted with an initially bewildering array of silk products, from raw materials, to garments, and a myriad of silk accessories. The local silk is known for its smooth and lightweight appearance, and qualities that enable it to be dyed more colors to suit a variety of skin tones.
In order to cater for the changing demands and tastes of customers, Van Phuc silk producers are expanding their silk and garment repertoire: traditional glossy, embroidered silks, double layers, wrinkled silks, and of course, more colours, hues and weights, for which they have invented new techniques in dying and thermo-processing the threads.
If you are going to buy something from Vietnam as gifts for those at home, silk and clothes made of silk are available around in the village for your choice. Though the days when Vietnam's silk was reserved for nobility are long gone, what would never change is the sense of romance and luxury imparted by silk, a luminous cloth type. With 2000 years of history behind them, the silk weavers of Van Phuc Silk village are still busy, weaving dreams.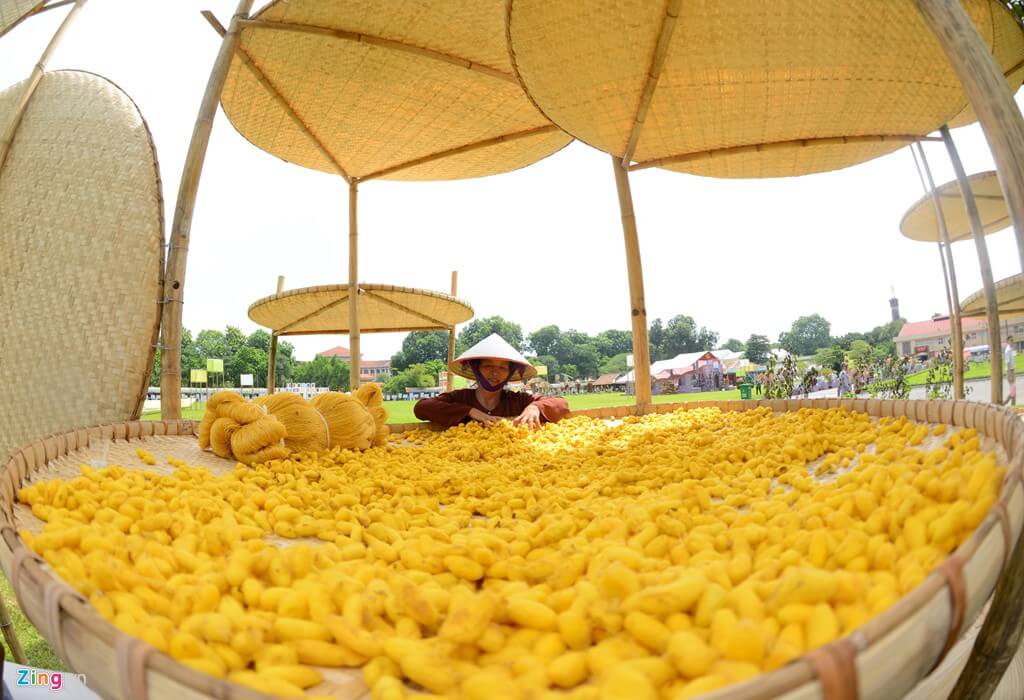 How to get there? With a view to reaching Van Phuc village, tourists should travel south west out of Ha Noi on Nguyen Trai Street until they reach the border of Ha Dong District. Then turn right and dive for about 3km. The village is on the left, some 8 km from central Hanoi. Motorbike, bus, or taxis are all of good use.
How to get there
Tourists can join a tour to Van Phuc village available in travel agencies, or visit Van Phuc on their owns by car, motorbike, or catch the local bus 02, 21 then walk 500m to reach the village.
Tourists should travel south west out of Hanoi center on Nguyen Trai road until reach the border of Ha Dong district, then turn right and drive about 3km to reach the village.