Bút Tháp Pagoda (Chùa Bút Tháp) has the pen name of Ninh Phuc Tu. It is located in But Thap hamlet, Dinh To commune, Thuan Thanh district, Bac Ninh province. This is a quite untouched pagoda and it has a big architecture scale of North Delta. This place now is considered as one of Vietnam Popular Destinations.
But Thap Pagoda was reconstructed in the 17th century by the monk Zhus Zhus, a citizen of Fujianprovince of China (regarded as the founder of the pagoda) and Queen Trinh Thi Ngoc Truc, a daughter of Lord Trinh Trang. In the Nei Kung Wai Kwo architectural style, But Thap Pagoda has the shape of the Chinese script Kung inside and the script Kwo outside.
Differently with other Vietnam Popular Destinations, the architecture of the pagoda is mainly the internal attack with outside support style. All the monuments face the South, traditional architecture of the Vietnamese.
The pagoda is balanced in the centre area but very natural in the surrounding area. The centre area includes eight houses which are set in an axis which are three gates entrance, bell tower, forecourt, upper palace, Tich Thien Am palace, middle house, worshiping palace, and back of a mansion.
The pagoda features more than 100 compartments and 10 buildings spread over 100 meters from the three-entrance gate to the bell-tower and back house. Inside the temple are more than 50 statues in different sizes and the most remarkable is "thousand-hands, thousand-eyes" Goddess of Mercy (Guanyin in Chinese) made in 1656 and took several years for completion.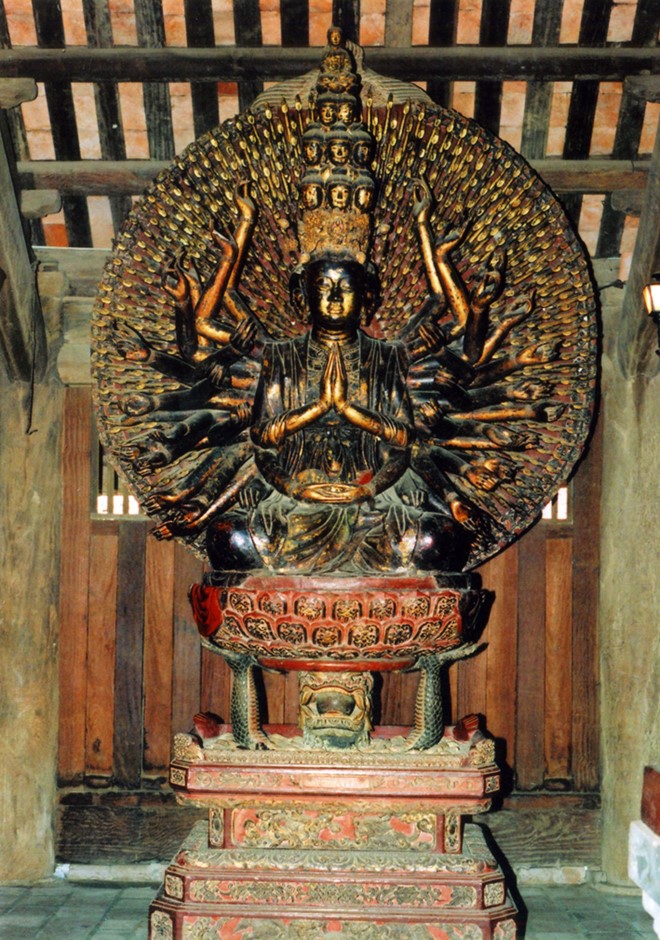 The statue of Kuan-yin is supposed to be the most mysterious language to stand out the philosophy of Buddhism with the portraying language and place in the But Thap with time and seniority, all make it mysterious.
Behind the backyard garden stand two stone stupas of the monk Zhus Zhus and Minh Hanh. The tower is a five storey block with a part of the peak made from blue marble. There are five small bells in the corners of five stores. There is a round area inside the tower with the diameter of 2.29m.
The last layer of the tower has 13 carving stone pictures with the main subjects of animals. Once visiting in 1876, the King Tu Duc saw the stone stupa's shape like a pen and named this pagoda But Thap.
But Thap is one of the little numbers of Vietnam Popular Destinations which remains the ancient architecture. There are many architect students coming here for internship. Visitors come here would come to the history and seems like come to the sparkling Buddhist land with the brown statues of Buddha to the architectures of tower, yard, lobby, etc…
How to get there
But Thap Pagoda is about 25km far from Hanoi , between highways one and five in But Thap Commune
Travel Tips
Dress modestly and respectfully once visiting pagodas.